The COVID-19 pandemic shook our economy as well as our society to its core. Thus one of the biggest shifts it brought happened at the intersection of those two: The workplace. Due to lockdowns and reduced mobility, companies big and small were forced to adjust work policies, embracing a remote work approach. They allow their employees to work from home and telecommute with their colleagues.
Among them are many software and digital service companies that initially never thought they could do away with their coder lounges or office cubes. But remote work has become a mass phenomenon: A study by Gartner forecasts that 51% of the knowledge workers worldwide will have access to remote working space at the end of 2021.
So, you will have to include remote working into your business routines in the future. And if you did already, are you getting the maximum out of it? We have compiled our company's best practices to help you pull off the home office challenge.
This article will:
Let's get down to basics!
Defining Remote Work, Home Office, Etc.
Remote work, home office, telecommuting… terms like these get thrown around a lot. Basically, they denominate the same way of working, which is: Not working from a fixed office located in the company headquarters but from somewhere else. However, those terms do differ in the nuances and we should not confuse them.
Definition: Remote Work
Remote Work simply means "not working on location". Essentially, the term applies to all work, which is normally believed to occur in a fixed workspace (such as an office), but can now be executed anywhere. To put it straight: Remote workers do not need to go to a designated workplace for working but can get own with their tasks wherever they like.
Or rather: Wherever there is a decent internet connection. Remote work largely proceeds online on modern, easily transportable portable devices such as notebooks. In essence, remote workers carry around their own Mobile Office. It's no wonder that most companies with remote work policies operate in the digital services sector. Design, marketing, business and software development – these industries are predestined to offer their staff the benefits of remote work.
Definition: Home Office
Remote Work and Home Office are often used interchangeably. However, the term home office indeed refers to a specific form of working remotely. Which is, well, working from home.
Professionals view flexibility as one of the key benefits of home office. But still, most of them appreciate a fixed workspace where they can sit down for 8 hours straight, if they intend to. The overwhelming majority of remote workers dedicate their own homes to be that workspace. This choice has a number of advantages, like the absence of travel time or the occasional presence of loved ones to spend your break with. In Germany, nearly a third of freelancers work from home – for full-time employees, this number is also increasing.
A smaller percentage of freelancers and remote workers also enjoys Co-Working Spaces as alternatives to home office spaces. These external, pay-to-use office spaces provide working desks and often also designated spaces for drinking coffee and socializing. For sociable home office workers, this might be a welcome cure for cabin fever – but of course, you might also simply pay that old company office a visit.
Definition: Telecommuting
At first gaze, Telecommuting might sound like a slightly antiquated term – it has been around since the 1970s. But it is still in wide use today. While the term Remote Work depicts what we do (off-location work) and Home Office signifies the location, where the working takes place, Telecommuting describes, how the work is done. Employees engaging in telecommuting don't meet their co-workers in person but communicate with them over a distance, with the help of modern telecommunication technology. Now that wired telephones enjoy their retirement, laptops connected to Wi-Fi internet and other mobile devices stand out as the top telecommuting performers.
Related to telecommuting, the term Telework does also exist but has largely the same meaning as remote work.
Remote Work – Is It Worth It?
For software companies (and not only them), there are good news: Digital value generation is more compatible with a home office setting than other forms of work. In a study by CoSo Cloud, 77% of remote employees reported productivity boosts.
And don't just trust the numbers – here are the personal experiences: Since our beginnings in the software market 10 years ago, our company trimplement has offered employees to work remotely. And it has paid out for us: In costs, productivity and growth. Most importantly though, this form of work allowed us to build up a company culture that's based on trust and responsibility.
But that does not mean, that adopting a remote work policy was always easy. Tried and true recipes for on-site working often don't qualify for remote working routines. And, given external economical pressure (like a certain pandemic), not all companies have settled (or currently are settling) for a remote work policy out of conviction.
Experiencing early setbacks in their new telework routines, corporate decision-makers might even have come to the belief, that working remotely hurts their businesses. It's certain, that adopting remote work will change how your company operates as a whole. How your employees engage with their workspace. And how your clients engage with your services, too.
So, how to make remote work work?
Remote Work for Software Companies: Changes and Best Practices
Adopt remote work and you will notice a few changes occurring in your company's working routines. Here are our tips and best practices on how to meet them, derived from our experience as a home-office-approving software company.
Change 1: Remote Work Turns Working Hours Into a Flexible Resource
Permitting your employees to work remotely takes more than just allowing them to take their company computers home. For many of your employees, working at the home office will be as big a shift as it will be for you as the manager. They must get used to self-organizing their working hours and efforts. And if they have their partners and children at home with them, they might choose to work at odd hours or with longer breaks in between. Prepare to frequently hear those three magic letters – and AFK, they're gone!
Remote Working Best Practice 1: Encourage Progression Monitoring
That doesn't mean, however, that you can't demand that your remote workers are online at certain hours. You can also ask them to give notice when they leave and come back. Resist the urge to monitor their every move, however, with a sophisticated system of clocking in and out. Rather, structure the work week with task-tracking systems (for a proper tool see below) which everyone has access to from their home office computers. Also, schedule time for progress meetings, at the end of the work for example. During such meetings, you can review your employee's tasks and get a hold on what has been achieved.
As a decision-maker in a remote working environment, it's your responsibility to help your employees self-organize their work, not make every decision for them.
Change 2: Remote Work Requires The Right Equipment
When you send your employees home to work, you have to provide a proper set of tools. Your employees might have home computers to work from, but chances are they are not fit for your company and, generally, it's not advisable either. Especially when you are handling sensitive data, the equipment of your employees must meet the security standards you set. You can't just trust a private Gaming PC to have that.
Remote Working Best Practice 2: Give Your Employees a Home Office Budget
A better option would be to buy laptops as work computers for the company. This allows them to take their "working station" with them, to their homes, to the office, during business trips. Company laptops will cut into your budget initially. But they will payout in the future.
But technology is just one thing: Supporting your employees to furnish an actual office space at home is equally, if not more important. Consider giving your employees a fixed budget for home office equipment. At the very least, your employees will need external monitors, desks and chairs, and those should be quality products. External monitors prevent your employees from having to bend over their notebook all day, while height-adjustable desks allow them to get into a more healthy, standing position once a while. And ergonomic chairs go easy on your employees backs. Ultimately, all items raise productivity while maintaining your employee's health.
Change 3: Remote Work Relies on Different Operational Routines
To tap the full potential of telecommuting routines you have to build up a remote communication culture and task planning routine for your employees. The benefit of this is not merely operational, it's also psychological. Not all employees might be productive right from the start and will appreciate a little more structure to make up for the missing in-person discussions.
Remote Working Best Practice 3: Provide the Proper Tools
More important than anything else however will be powerful tools for communication. At the very least, good task tracking programs should be on your list (we use Trello boards for the overall task planning, and Jira for tracking everything related to software development). Also, if you do not already have one, consider offering shared cloud storage (we rely on Google Drive here) as internal file deposits. To track your staff's working hours at the home office, time recording apps will do the job (we use mite).
Change 4: Remote Work Requires Telecommuting Meeting Discipline
Speaking of communication, here we go with telecommuting discipline. It's true that simply uttering the word Meetings will induce shivers with many people. But it's really the unproductive meetings that are to blame here: A remote working routine depends on regular, digital stand-ups and planning sessions.
What's more: Online communication often leaves a lot to be desired in terms of subtext and can be prone to misunderstandings. That's especially true for written messages in chat environments.
Remote Working Best Practice 4: Document and Socialize
So any productive home office will not run on email alone. As a company, you should set up platforms for real-time chat and instant file transfer as well. Your employees benefit from reaching each other and sharing their work without delay (if you are working in the software industry, you want to supplement this with a cloud-based versioning system like GitHub). Preferably, your tool of choice should also support video conferences (our own company uses Slack). The ability to see each other counters feelings of seclusion and creates a sense of community. And to counter misunderstandings as well, make sure that your telecommuters have no reservations about asking for help or clarifications. For software companies, well-tended documentation is half the battle.
The other half is fought on the real-life battlefield of casual socializing. Your workers are more than faces on a computer screen. Actually leaving the home office once in a while and meeting one another in person now and then is crucial for team building and company culture. We used to schedule regular team days and company events during which our employees meet in person. If that is not possible (as is the case during Corona lockdowns), we settled for a digital alternative that's close enough: On Mondays we keep half an hour clear for a video-supported kickoff meeting. It's a welcome opportunity to see everyone's face and ask how they've spent their weekend.
And whenever there is something to celebrate for our company, our employees can be sure to find mini champagne bottles in the mail, for remote clinking-of-glasses meetings.
Change 5: Remote Work Expands your Talent Pool
This change is perhaps the most inherently positive one. Offering work-from-home opportunities does not only constitute an attractive incentive in its own regard. It also provides access to a much larger pool of candidates for your job openings. If you keep on-site presence flexible time-wise, you will attract more job applicants with children, who will appreciate the option to take longer breaks to care for family matters.
Likewise, it allows you to bring in candidates who live far away from your office site and who don't have the option to move residences – if they are the ideal candidate, they can still work for you in home office.
Ultimately, that even allows you to hire people living abroad. In such cases, however, you must mind time zones. This increases your planning effort as you have to make sure to pick meeting time slots everyone can effortlessly abide by. But on the other hand, your employees travel less – kind regards to the environment.
Remote Working Best Practice 5: Talk about your Remote Policies
To speak to this bigger pool of potential employees, make sure to put your remote working policy front and centre in the job description. It's not a detail to negotiate during the job interview, but an incentive for talents to even consider applying for the vacancy.
Change 6: Remote Work Changes How You Deal With Clients
What's true for potential employees is also true for potential clients. If you have an international team working with a likewise international client, keeping everyone in the loop is a top priority (remember: time zones). Stick to your regular progress meetings. And also make sure that responsibilities and hierarchies are clear – everyone should know whom they have to answer to.
That's all the more important when we look at the matter from the customer's perspective. In our years in the software business, we have come to realize that large businesses in particular often have reservations about partnerships with remotely working companies.
Remote Working Best Practice 6: Keep Your Customers in the Loop
So persuading a potential client to give remote work a shot requires convincing arguments. The best one: Having an accountable history of successful projects, which were realized through home office work. That can be internal projects as well. You just have to show that you have a solid workflow to focus your team members' efforts. And ideally, that you have delivered on your promises with former customers.
Once you have convinced your client-to-be, it's important that you examine closely, how your workflow can fit with theirs. Don't ask another company to adjust to the way you work: A solid remote workflow, in this sense, has to be a flexible remote workflow (which really is one of the biggest strengths of this way of working).
In the case of our company, we fully abide by what we said earlier about communication and reaching a productive team spirit. Before settling completely for an all-remote workflow, we establish trust and devise a shared project language – in person. A workshop phase with our team marks the beginning of every project. During this stage, we send a part of the team to the customer's location. Together, we set up collaborative SCRUM routines and hold knowledge transfer sessions. Then, our team completes the first SCRUM tasks directly on-site. That way, team members can get familiar with each other and the way we are working.
After this initial phase, we transition into remote work. It's the point when communication becomes front and centre of the project. Just like internal communication, your employees should be generous with sharing information where needed. To this end, we use real-time chat and file-sharing software to keep as reactive to our client's requests as possible. Additionally, we always assign one member of our company, typically one of our Solution Architects, to act as the main person of contact for the client. This person shows more presence at the client's company. They regularly appear on-location and giving confidence that the project is going forward.
So, in short, communicate, be flexible and stick to the project requirements and goal. Say what you do and do what you say.
Change 7: Remote Work Takes Effort to Make Everything Secure
One final aspect to consider when setting up your company for remote work is security. If you are a service provider, chances are you handle sensitive personal information of your customers as well as corporate information. It's a given that you will have a tight security policy in place if you are such a company. But make no mistake and think that switching to remote work will not influence your security concept.
Indeed, you have to count on your remote workers to hold up your security policy. If they work on the train or at public spaces, for example, mere onlookers can catch sensitive information on their computer screens. Moreover, criminals specializing in social engineering might target your home office workers more readily. The reason is, that they deem your employees more likely to give away information when not surrounded by co-workers. And lastly, a private internet connection might not be as safe as your corporate one. That's especially true if your employees don't protect access or settle for easy-to-guess passwords. In such cases, it might become easy for hackers to log into your employees home networks and steal your data. However, they must know where your employees live, of course.
Remote Working Best Practice 7: Raise Security Awareness
You can effectively avoid any of the cases above by raising your staff's awareness in regular, security training sessions. Also, even for small teams, it's mandatory to have one or more security specialists on the team. They can answer questions on the matter and can execute action plans in case of security breaches.
Also, in some regards, security might even increase with remote work. As you don't have everything laying around the office, burgling it will not yield as much sensitive data. Also, the opportunities for criminals engaging in "dumpster diving" will drop.
Sidenote: Flexible Remote Work + Team Gatherings
Giving your employees the option for home office does not mean, that your employees have to stay home at all times (except when a crisis makes this necessary, of course).
Our company, for example, is a flexible remote team. That means we engage in alternating telework, offering fixed on-site working days twice a week, during which the team gathers in our office in Cologne and also enjoys lunch and coffee breaks together. As some of our employees would have disproportionately long travel times, those office days are not mandatory. Anyhow, we know well how important live meetings and even small personal exchanges are when establishing a genuine team spirit.
In addition, we practice a "culture of sharing": We encourage our remote workers to pass on their expertise, preventing isolated islands of knowledge, which can ultimately turn into single points of failure in the team. To meet those ends, we arrange monthly to bi-monthly team days. On such occasions, we encourage all our employees to attend, even if they have to come in from further away. We use our team days for communal lunch, productive get-togethers and training sessions as well, prepared by volunteers from the team.
Mind that, with the Corona crisis of 2020 having kicked in, we suspended regular on-site gatherings to preserve our employees' health. But as our employees are well-practised in working from their home offices, we can keep productivity high. To accommodate for the reduced meetings in person, we ramped up our telecommuting game. We introduced an informal kick-off video chat on Monday mornings. What's more, we also kept the knowledge transfer sessions going as video calls.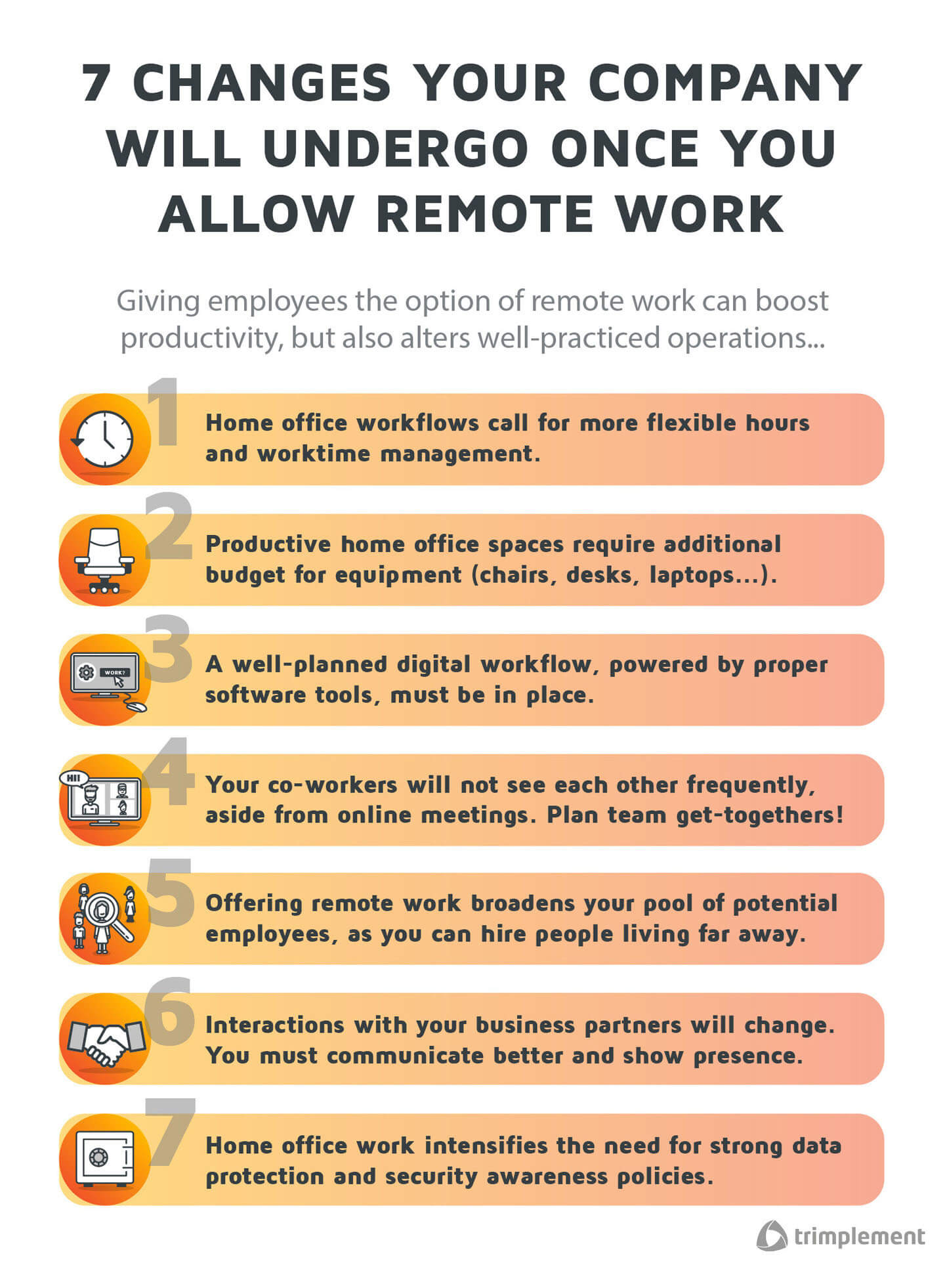 Summary – The Final Wisdom of Remote Work
Our last piece of advice on the topic of home office would thus be: Be ready to twist the formula. Every company has unique work routines and translating them to home offices will take some thought. Take in what you learned during the last remote work period and tweak your policies where needed.
After all, change is just one letter away from chance.
---
Want to learn more about our agile and remote workflows. We have compiled them here!